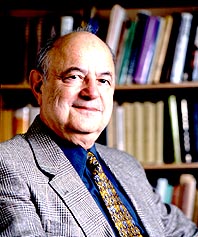 Tom Cogill
Irving I. Gottesman
Gottesman is retiring after illustrious psychology career
By Nancy Hurrelbrinck
Just back from giving three talks in Japan on psychiatric genetics, Irving I. Gottesman had already received several e-mails from Japanese researchers posing questions and seeking advice.
"It's a thrill to be involved in a worldwide scene, to know that people are reading our work," he said, noting that his 1991 book on the usefulness of twin studies for exploring psychiatric disorders has sold well in Japan.
At the peak of an illustrious career, Gottesman, the Sherrell J. Aston Professor of Psychology, is retiring this May, but it doesn't sound like he's slowing down. He'll be busy this summer accepting honors from a variety of corners.
On May 11, Sir Michael Rutter, an international expert on child psychology, will give a lecture in his honor in Gilmer Hall at 3 p.m.
In June, a meeting for Gottesman will be held in Minneapolis with many of his former students and international collaborators, whose papers will be published as a festschrift in his honor.
Should individuals affected with schizophrenia have children?
A simple 'yes' or 'no' answer cannot do justice to this very personal and delicate question that goes to the heart of personal liberty and civil rights in a democratic society. … The decision should be based on an objective evaluation of the affected person's ability to deal with the emotional stress and tension-related risks of relapse associated with the demands of parenting. Individual [genetic] counseling is necessary in each case.
— from a pamphlet entitled, "Schizophrenia & Genetic Risks," by Irving I. Gottesman and Stephen O. Moldin of the NIMH
And, in August, the American Psychological Association will be awarding him its Distinguished Scientific Contributions Award. Past winners have included Jean Piaget, B.F. Skinner and former U.Va. professor Mary Ainsworth.
Additionally, Sherrell J. Aston has endowed an annual lecture series in Gottesman's honor.
Gottesman came to U.Va. in 1985 to establish a clinical psychology training program that would be more research-oriented than the existing one in the Curry School.
Susan Trumbetta, a former student now teaching at Vassar, said she was initially drawn to Gottesman's lab by "the intellectual freedom he encourages. … Irv's playful irreverance toward [academic boundaries] creates a climate in which students also feel free to play with ideas, to question even their most cherished assumptions."
As a researcher, Gottesman's intellectual independence seems to have put him a step ahead of the curve. In the early 1960s, the heyday of Freudianism, he became interested in genetics. Attention to — and funding for — cross-disciplinary approaches to psychology soon burgeoned.
His first extensive study of the genetics of schizophrenia used a twin register that had been in place for 15 years. By comparing identical twins, who share the same genetic profile, and fraternal ones, whose genes differ, he found that genes were undeniably a determining factor in schizophrenia.
But "even when you study identical twins where one has schizophrenia, the other develops it in only 50 percent of the cases," said Gottesman, who, at 70, exudes the energy of a much younger person. "That leaves room for a wide range of non-genetic factors" such as auto accidents, divorce, exposure to heavy metals or street drugs. Contrary to popular belief, "the role played by family environment turns out to be much less important sthan anyone would guess.
"The solid core in predisposing factors for me remains the genotype, but that's never enough to explain the individual case," he said. "The models we use are those for diabetes and coronary artery disease — these are complex diseases with an obvious role for genetic predisposing factors and lifestyle factors."
Gottesman's work, published in 18 books, 179 journal articles, 75 book chapters, and 23 book reviews, has constituted, in Trumbetta's words, "formidable contributions to the fields of psychopathology and genetics research," earning him a long list of prestigious awards.
He has also embraced the role of citizen-scientist, researching and writing about the ideological abuses of genetic research in Nazi Germany and, last year, serving as an expert witness in a Chinese human rights case in which three men had been denied employment in the Department of Public Safety because of an outdated law that cited having a schizophrenic parent as a legitimate reason.
"I testified that a genetically influenced disease isn't a genetically determined one," he said, adding that the court ruled in the men's favor, though the law hasn't been changed. He will return to testify in a similar case later this year.
Gottesman's retirement plans include "active grandfathering." He and his wife Carol will be moving to Minneapolis this summer, where one of their two sons and his four-year-old son live.
He expects to continue consulting and doing research, working one day a week in the University of Minnesota's psychology department, as well as volunteering once a month at the Minnesota Veterans' Administration. He also has three books in the works.
"I've tried, but I haven't been able to actually clear my desk," he said. "But as least my calendar is not absolutely filled, as it has typically been in the past."