Schizophrenia Blogging Review
I've been checking on different people's blogs that touch upon the issue of schizophrenia.
Here are some of the ones I think you may find interesting:
What makes me feel good now? - research project - a nice, short blog entry by a neuro-cognitive psychology student who is looking forward to doing research on schizophrenia, and working with people who have schizophrenia. Its great to find people like this in the world.
Nothing you can do - this is a blog entry by a woman who's best friend from childhood develops schizophrenia. She talks about the challenges she has with being his friend. Its a difficult situation for everyone.
British Psychological Society Conference, Manchester - a short blog announcement of an upcoming conference in the UK.
Spirituality (The God Gene) and Schizophrenia - This blog entry ponders the recent discoveries that some biologists have made related to certain genes and genetic variations that preliminary evidence has led them to suggest that the genes may predispose people to spirituality or religous experiences. The writer touches upon the idea of what have been called spirituality and how it might or might not relate to schizophrenia.
The blog entry reminded me of a visit I made to Siena, Italy once - and the San Domenico Church where St. Catherine's remains are stored. The story of St. Catherine seemed strangely familiar to other stories I've seen on this web site; "St. Catherine started having mystical experiences when she was only 6, seeing guardian angels as clearly as the people they protected. She became a Dominican tertiary when she was 16, and continued to have visions of Christ, Mary, and the saints." I seem to remember that in signage at the church they also spoke of her spending hours praying for hours and talking in strange voices and that her parents had effectively given her to the local church when she was quite young because they didn't feel they could help her; she was very aloof and spent many hours praying each day as a recluse in a small cell of a room.
Interestingly, today in some discussions with the schizophrenia researchers that developed the virtual reality internet game that incorporates common hallucinations from people that have schizophrenia - I learned that they include this image in their game (its an image of the Mother Mary):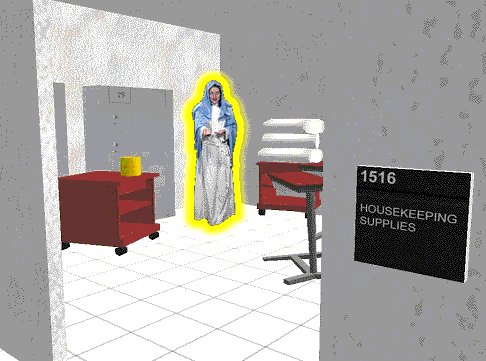 Posted by szadmin at March 9, 2005 06:36 AM
More Information on
Schizophrenia Personal Story