Children's Schizophrenia Book
Helicopter Man - New Children's Book on Schizophrenia
There is a new Children's book coming out about a homeless young boy and his father who has schizophrenia. It sounds like it might be a valuable book to help educate children about schizophrenia. The publisher suggests that it is targeted at a reading level of Ages 9 to 12 years.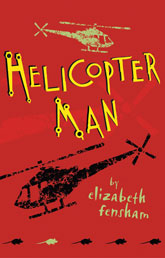 "Helicopter Man" Description and Sample From the Publisher
A compelling story of a family coping with mental illness, in the manner of The Curious Incident of the Dog in the Night-Time
Diary: Saturday, May 6th
The helicopters are flying low today. Dad has kept us inside.
Too dangerous to go out, Pete.
We're both in our sleeping bags. Dad's trying to think, but he keeps dozing off. His grey hair has fallen out of its ponytail. He's snoring with his mouth open.
I'll organize my pack today in case we have to evacuate…
Fifteen-year-old Peter Sinclair's father is a paranoid schizophrenic, afraid of helicopters, police, and life itself. When Peter's mother leaves home one day and doesn't return, Pete and his father soon find themselves living hand-to-mouth, estranged from family, and teetering on the brink of homelessness. Based on a real experience, this is a haunting and ultimately redemptive story of illness, love, and a boy's indomitable spirit to survive.
About the Author: Elizabeth Fensham. Elizabeth Fensham wrote Helicopter Man after she could not find anything in the library for the young son of a friend who suffers from schizophrenia. She hopes this book, her first for young readers, will help to create a new understanding of mental illness. Elizabeth lives in New South Wales, Australia.

Kirkus reviews describes it as follows:
   A homeless Australian boy sticks by his schizophrenic father as their fragile world disintegrates in this moving story of courage and devotion. .. This poignant story of a boy's loyalty in the face of his father's bewildering mental illness offers a realistic take on a difficult contemporary theme.

To PURCHASE BOOK from AMAZON: Helicopter Man
More Information on Publisher: Bloomsbury Children's Books
Posted by szadmin at May 12, 2005 09:56 PM
More Information on
Schizophrenia Books, TV, Movies & Plays