Brother's Story in New Film
New Film out of Canada on Brother's Schizophrenia
In Montreal, Canada (at the Montreal World Film Festival) a new film is being released about one man's brother's experience with schizophrenia. The film is called "The Beggars Description". See below for a full description of the film, and links to more information. The film is available in North America via the National Film Board (click here for information).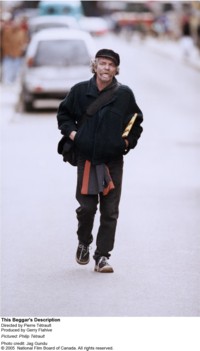 The Montreal Gazette reported, in a story titled "Immortalizing a brother's beautiful mind"
"Even in a city top-heavy with eccentric characters, Philip Tetrault stands out. He is a poet, painter and master of the pan flute. He is a friend to the famous and the infamous. He has lived among the well-heeled and the hobos. He is also a diagnosed with paranoid schizophrenia.
Few know more about the highs and lows of Philip Tetrault's existence than his brother Pierre. A playwright, actor and stage director, Pierre was determined to document Philip's life on screen. And Philip was not about to entrust that job to anyone other than his brother. So Pierre switched media focus and makes his film debut with Philip's saga, This Beggar's Description, which marks its premiere Tuesday at the Montreal World Film Festival."
The reporter adds that:
"Because the subject matter is so intensely personal, Pierre admits it was difficult to chronicle his brother's harrowing odyssey, an unending round trip to hell and back. Yet he has deftly captured many of the loose ends in Philip's life. Painful, yes, but also a passionate and whimsical tale of the artist as a tortured man."
...
Its reported that "The documentary's most stirring moments feature the three most influential women in Philip's life: his mother, the mother of his daughter and his daughter, all of who have shown unwavering support for the man. The footage depicting Philip's conflicted daughter is particularly poignant."
...
As for his turn on screen, Philip concedes it is difficult to watch himself. "I realize that I'm exposing myself to the world, but in the process I've purged myself from so much that I have been hiding all these years."
So where does Philip go from here? He doesn't hesitate to respond: "Bifteck, Copacabana, Elsa's - I'll work my way down the bars of the street," he muses. "Then I'll hop into my Cessna and head for the south of France. Or maybe Florida. I'm not sure. And if not, well, maybe I'll continue writing my poems, painting and playing the pan flute every Sunday at church."
This Beggar's Description is being screened as part of the Montreal World Film Festival Tuesday at 8 p.m. and Friday at 11:30 a.m. at the Cinematheque Quebecoise.
The Beggers Description (link at the Montreal Film Festival)
English Translation of "The Beggers Desription" via Google
Source: Montreal Gazette
Posted by szadmin at September 1, 2005 09:41 AM
More Information on
Schizophrenia Books, TV, Movies & Plays