Interviews with Elyn Saks, author of "The Center Cannot Hold,"
We've had many positive messages from people who were appreciative of this week's story of Elyn Saks who is a professor at the University of Southern California, and has recently published an autobiography on her recovery process from schizophrenia. In fact we're in contact with the publisher and we'll be interviewing Elyn ourselves in the next week or two - and we'd love to get questions from you that you'd like for us to ask her - just post them in the comments section of this page at the bottom and we'll try to get her response.
Following is an excerpt from an excellent interview with Elyn that was broadcast yesterday, and then at the bottom of the page there is a link to the NPR web site where you can listen to the entire interview (which we encourage you do). Also below is another interview that is published in Newsweek magazine.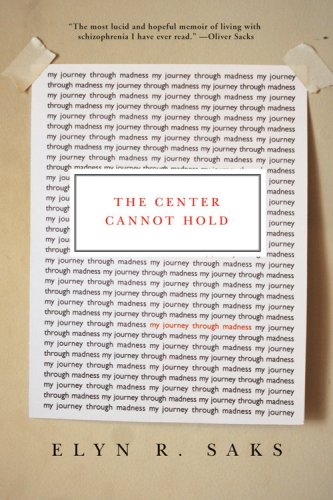 August 7, 2007 Tuesday, NPR Fresh Air
Elyn Saks, author of The Center Cannot Hold
on living with schizophrenia
"Schizophrenia," Elyn Saks writes, "rolls in like a fog, becoming imperceptibly thicker as time goes on." Saks is a professor of law, psychology and psychiatry and the behavioral sciences, and she's written widely on mental health and the law. But her knowledge of schizophrenia is deep and personal. Though many of her colleagues and students are just now learning it, Saks herself suffers from the disease. It emerged when she was in college and strengthened in graduate school. She suffered serious episodes of delusions and paranoia, at times mumbling to herself in hallways and forgetting to eat and bathe. Remarkably, despite several hospitalizations, Saks managed to graduate as class valedictorian at Vanderbilt and complete studies at Oxford and Yale law school. She's told her story in a new memoir. It's called "The Center Cannot Hold: My Journey Through Madness."
Well, Elyn Saks, welcome to FRESH AIR. Schizophrenia typically presents itself, I guess, in early adulthood, I guess, often a little earlier with men than women.
As you reflect on your childhood...are there moments that you think might have been early manifestations of your illness?
Ms. SAKS: You know, I had a bunch of symptoms when I was growing up. I think a lot of them were within normal limits. You know, I was fearful. I had some phobias. I had some obsessions. I had some kind of intense fears that, in retrospect, might have been a kind of beginning of the almost poking through, but the first real clear sign of it was when I was 15 or 16, and I was sort of walking home from school precipitously. I left, I just suddenly got up and walked home, and I felt as if the houses were sending me messages and getting all weird and frightening, and I was terrified. So that was kind of the first episode, but I brought it to an end fairly quickly, and it didn't come back in that kind of florid form until I went to Oxford as a graduate student.
DAVIES: What did you make of it at the time?
Ms. SAKS: I didn't know what to make of it. It was just something that happened to me. It was weird. I was worried about it. In retrospect, I wish I would have, you know, gotten some good treatment at the time. My parents were very good parents and very kind and caring parents, but I don't think they really understood that I needed treatment for the things that I was experiencing. Who knows if it would have made a difference, but maybe it would have.
DAVIES: You know, the interesting thing, of course, is that one of the problems with schizophrenia is that when people begin to get ill, they don't realize they're getting ill...They think they're understanding reality as it is. ...when in fact it's quite distorted, and I'm wondering if your ability to remember your previous episodes was ever a tool that you could say, `Wait a minute. I recognize.....`this thought pattern. This is what I do when I get sick.'
Ms. SAKS: Oh, absolutely. Absolutely. I mean, you know, a psychosis is not like an on-off button but a kind of a dimmer switch; it ranges in degrees of intensity. And by this time I know my illness fairly well and it's not uncommon for me to have a kind of transient psychotic thought and say, `Oh, that's just my illness acting up.' And one thing that's stood me in good stead is, even when it gets worse, when I am really, really believing the crazy things, I always know that other people will think they're crazy, and I'm motivated to not appear crazy so I'm able to kind of make my way in the world in that way. And then occasions where it's just so intense and so profound, I just know not to be around people. Because I, you know, I don't know what I'll say. So for the most part I can control what I say even though I really can't control what I think.
DAVIES: USC professor of law and psychology Elyn Saks. Many of her colleagues will learn more of her illness when she speaks at the American Psychological Association Convention in San Francisco later this month. Her memoir is called "The Center Cannot Hold: My Journey Through Madness."

Listen to the Full Interview: Elyn Saks Interview
In the Newsweek interview they mention:
Newsweek: It's clear from your book you not only had good health care but friends and family who were adept at managing and coping with your psychosis. Many people with schizophrenia aren't as lucky, right?
Elyn Saks:
I say most of my success has been due to luck—to have supportive family and friends, to respond to medication and to have the resources to get proper care. There are a lot of people who have schizophrenia and bipolar disorder who do not have resources and can't get help. Mine is a story of someone who did well with good treatment. One of the tragedies of our system is that most people don't get the kind of help they need and if they got treatment, they could be much happier and higher-functioning.

Newsweek Interview with Elyn Saks: Waking Nightmares
Another Interview:
Interview: Professor Elyn Saks Discusses Memoir, Battle with Schizophrenia
You can order the book on Amazon.com at the following link: The Center Cannot Hold: My Journey Through Madness
Posted by szadmin at August 8, 2007 10:31 AM
More Information on
Schizophrenia Books, TV, Movies & Plays