"The Decorated Betsy"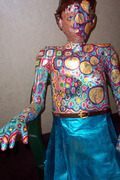 NOTE that you can click on any of these images to get a larger picture. SOme of you can click again to magnify details.

"The Decorated Betsy" is finished as far as I can finish her! I thought of decorating the chair and skirt but everyone said that would be overkill so I squashed my impulse and my overeager fingers and left them alone...Now, what to do with her, and with Yurtle the Turtle, who is also residing with me again, since Lynn and Cy are now sleeping in their living room, what with Lynn bedridden and needing the space and the living room stimulation and light and picture window...

I want to build another sculpture but I simply have no room for one, not without someone to store or hold onto my poor creatures....I do want to collect a number of them for a show eventually, but for now I'd lend them to anyone willing to hold them for me...Alas, I do not know very many people near me who want a person, decorated or not, taking up sitting space in their house! A turtle might be of more interest, but even there, who to ask?

Lynn was gone from her eyes for one visit, and i thought she was on her way out but good, though I also suspected it was somewhat willed, a way to force her body to exit...And indeed, by the following week she was "back" in her eyes, back as Lynn, recognizing people and speaking again, not willfully or willingly opting to opt out of living. She did tell me in no uncertain terms that she wanted to "go home". I replied that I knew, I knew, and I understood, but sometimes one's body took a while to get there. Eventually she would go home, but it might take a while longer. She nodded, seemed resigned, but clearly did not want it to be so. Still, last I had heard, she was refusing to eat yet when I visited on Friday, she was willing to be fed ice cream.

One poignant note about this sad affair is that now that she is staying in bed, conserving her energy and no longer smoking, her lungs are no longer being irritated and her body is under less stress. Which means she has more time to heal and grow stronger, if possible...All things that she actually does not want to happen. In some sense this horrifies me on her behalf, the irony of it, since I know how much she wants out; on the other hand, I keep hoping that if she actually were to feel better, maybe she would want to live a bit longer...

It is a difficult call. Luckily, I do not have to make it.

I wrote the dedication and the acknowledgments for my book today. I have titled it, firmly I believe, since everyone at the publishers seems to like it as much as I do: WE MAD CLIMB SHAKY LADDERS. It is coming along nicely and I am almost ready to finish it up and send in the final final copies for the editor to see. Then it will be out of my hands completely. It is hard to let go of it! Losing control of it, letting it fall lnto foreign hands, and giving it over to the "enemy" (!) feels threatening, even as I am aware that the publisher OUGHT to feel like a friend, not a foe, an ally of the best sort and not some sort of adversary who wants to get something from me without giving an inch...I dunno why I feel this way, or maybe I do. Since this endeavor began I have had NO encouragement from anyone at the press, only form letters delineating my tasks and my deadlines. Absolutely NO help or positive reinforcement from anyone. NOT even one word that indicated they care about my book in any particular way. Just business letters and what feels like demand after demand! I dunno why I continue to work with them. It is definitely NOT because I feel I could not be published elsewhere. I am virtually certain I could. But I admire this press, and its aim and ends...its non-profit nature. I just didn't bargain for this sort of personal feelings of attack and neglect....

Enough for now. I need to get back to my writing. I've been asked to write an "occasional poem" that is, a poem on the occasion of Lynn's expected funeral sometime in the near or far future. I need to find a subject. Occasional poems are not easy...Especially if you want them to be personal, as I do. But I will try my best, and if I can't do it, I will still have my "MOM" essay I edited that I can read in a pinch.
TTFN
Posted by pamwagg at March 2, 2008 08:00 PM | TrackBack