My calendar and my life!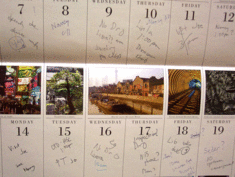 I'm totally overwhelmed with busy-ness and need to slow down. As you can see, I've had maybe Sunday off these past two weeks and I am virtually certain that I simply forgot to write in that day what I actually had scheduled. I have not had a truly free day to myself in a long time.
That said, I am working on an entry to post here, which I should be able to put up by tomorrow if I keep at it. In the meantime, know that I am here, just swamped and overwhelmed!
Posted by pamwagg at April 25, 2008 09:36 AM | TrackBack