Picture of me and one recent artwork
I figure some of you might want to know what I look like. So here I am, in my favorite tee shirt and the one necklace -- remade since this photo using graduated real turquoise beads and sterling silver - I won't sell. This is the photo that I believe will be used for publicity for my book of poems.
I know, I know! I'm cheating with the date. But I'm in charge of this blog and I can do ANYthing here. That includes going into the future and writing my entries in advance. So there!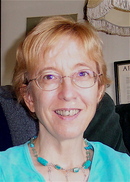 Posted by pamwagg at May 19, 2008 07:08 PM | TrackBack