Book: If Your Adolescent Has Schizophrenia...
There is a new book out that has been written for parents of adolescent children who have schizophrenia.
The book is titled: If Your Adolescent Has Schizophrenia: An Essential Resource for Parents . The Authors are Raquel E. Gur and Ann Braden Johnson.The book is published by Oxford University Press, $9.95 paper (160p) ISBN 0195182111
A recent review by Publisher's weekly suggest that Gur and Johnson present a solid overview of schizophrenia in this current, accessible volume, which, though geared toward parents, will also be useful for educators and guidance counselors.
The authors (Gur teaches psychiatry, neurology and radiology at the University of Pennsylvania; Johnson is a medical writer and psychotherapist) explain that schizophrenia is a complex, chronic disease that often strikes during adolescence and young adulthood, and that while there may have been subtle signs before the initial episode, parents are often shocked to learn that their child has schizophrenia.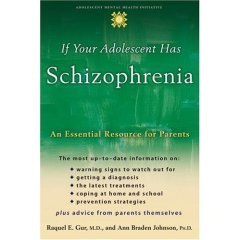 The publisher describes the book as follows:
"If Your Adolescent Has Schizophrenia is an informative guide, written specifically to help adults spot the warning signs and seek appropriate treatment for the young people in their lives. Parents will find a clear definition of the disease, including early indicators of the disease as well as information on how to arrange for the proper diagnosis and treatment. Using the experiences of parents with children who have the illness themselves, this book will provide an insiders survival guide for those now facing this illness in their own children. While enormous strides have been made toward identifying likely causes and effective remedies of schizophrenia in recent decades, no one therapeutic regimen works perfectly in all cases. If Your Adolescent Has Schizophrenia will offer readers trusted information and support that will enable them to confront this disorder head on and get their children meaningful medical and psychosocial help in order to mitigate its effects."
The book notes that early detection and intervention can significantly influence the course of schizophrenia over the long-term, and this book will empower parents to seek out the proper professionals, therapies and medications to help their teen manage and treat the disease.
In particular, "How Parents Can Help" sections in each chapter outline such topics as how parents can proactively seek hospital admission for their child, maintain a proper medication schedule and become involved in the politics of mental health
More information on the book at Amazon.com: If Your Adolescent Has Schizophrenia: An Essential Resource for Parents
Posted by szadmin at March 5, 2006 09:36 PM
More Information on
Schizophrenia Books, TV, Movies & Plays