Homeless Man with Schizophrenia: The New Face of a Fashion Label?
John Wesley Jermyn, a homeless man in West Los Angeles, is known for his roller-skating and dancing in the area. People passing by have nicknamed him "The Crazy Robertson" and "The Robertson Dancer" because he's often spotted on L.A.'s Robertson Blvd. What many people don't know is that Mr. Jermyn suffers from schizophrenia and according to his sister, refuses to take the medication needed to treat his illness.
Though Mr. Jermyn has been dancing around L.A. for the past twenty years, he's only recently come into the media spotlight because a new clothing line has been named after one of his nicknames: "The Crazy Robertson" clothing brand became available about a month ago and shirts and sweatshirts with its label have been selling well at L.A.'s trendy Kitson.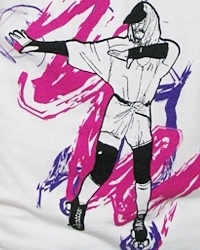 "The clothes feature stylized images of Mr. Jermyn, including one design -- available on a $98 hoodie -- that has a graphic of him dancing and the phrase 'No Money, No Problems' on the back."
The creators of the label, three 23-year-olds, apparently spent months trying to get Mr. Jermyn's approval for the business. According to a recent article, they state that Mr. Jermyn is involved in design decisions for the label. But the article also states that Mr. Jermyn signed a contract in May--without consulting a lawyer, friend or family member--entitling him to only 5% of the net profit generated from sales of "The Crazy Robertson" clothes. This is surprising, especially considering that it's Mr. Jermyn's image that appears on the label's clothes. However, at least one of the creators states in the article that the clothing label hasn't made much profit yet, but that Mr. Jermyn has already received "several small payments" in the forms of food, liquor, etc., because he apparently dislikes dealing with money.
All of this is quite disconcerting to Mr. Jermyn's sister, Beverly. She believes that her brother is being exploited. "I think these guys saw an opportunity and they took it," she says. "I am not happy with the arrangement."
Ms. Jermyn, who lives close to the alley where Mr. Jermyn sleeps, says her brother has a form of schizophrenia. He refuses to take medication, she says, despite suffering from fits of shouting and cursing. In the years since his condition began deteriorating in the late 1970s, "he slipped through my fingers like sand,"(she says.) In the late 1980s she testified in court in a proceeding to force her brother to seek help, but psychological evaluators found him "lucid and gracious," according to Ms. Jermyn. She has made countless attempts to provide him with shelter and therapy, and she still visits him twice a week with food. She also pays for his cellphone and collects his Social Security checks on his behalf.
Whether or not Mr. Jermyn is being exploited, the very name of the clothing label, "The Crazy Robertson," seems negative and possibly stigma-inducing. It seems easier to separate people suffering from mental illness from the rest of the population when they're labeled a word such as "crazy" and everyone else is not. [Read More About Stigma Here.]
Full Story: Homeless Man Inspires Clothing Brand. (The Wall Street Journal)
Another Article on "Crazy Robertson" - La.com
The Crazy Robertson on MySpace
The Crazy Robertson Website
Posted by szwriter at November 14, 2007 12:53 PM
More Information on
Schizophrenia Personal Story