Protein Biomarkers for Schizophrenia Studied in Cerebrospinal Fluid
Researchers at Cambridge University published a study in the Open-Access Journal PLoS Medicine comparing the cerebrospinal fluid (CSF) of drug-naive patients with first-onset paranoid schizophrenia with the CSF of healthy controls. They found significant changes in the levels of two proteins, an amino acid called VGF and a protein called transthyretin. VGF, a neurosecretory protein that is selectively expressed in neurons in brain, particularly in the hypothalamus, was found at higher levels in the CSF of patients with schizophrenia than in healthy controls and the transthyretin (a thyroid hormone–binding protein) levels lower. The sensitivity (the probability that a symptom is present given that the person has the disease - also known as the true positive rate) of their tests was between 80-88 percent, and the specificity (the true negative rate) was 95%.
These same two protein level differences had also been found in post-mortem brain samples of patients with schizophrenia compared with samples from controls, and lower levels of transthyretin had been found in serum (blood) of first-onset drug naïve schizophrenia patients.
Patients studied with some non-psychotic psychiatric illnesses did not show these same differences, raising the hopes that CSF analysis techniques for these proteins may someday be used to detect biomarkers for diagnosing schizophrenia, or for better understanding its molecular basis in order to develop novel treatment.
Patients with other psychotic illnesses were not studied, so it is unknown if these potential biomarkers (VGF and transthyretin levels in the CSF) are specific to schizophrenia or to more than one psychotic illness.
Figure 1: Up-Regulation of VGF23 Peptide in CSF from First-Onset, Drug-naïve Patients with Schizophrenia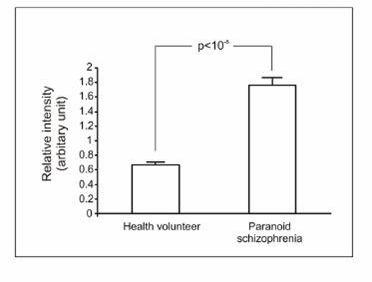 Figure 2: Down-Regulation of Transthyretin Levels in CSF of First-Onset, Drug-Naïve Patients with Schizophrenia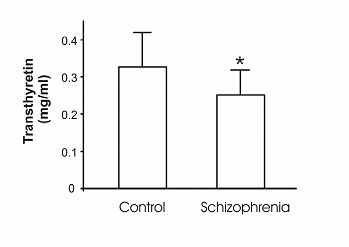 Figures From: Huang JTJ, Leweke FM, Oxley D, Wang L, Harris N, et al. (2006) Disease Biomarkers in Cerebrospinal Fluid of Patients with First-Onset Psychosis. PLoS Med 3(11): e428
The down-regulation of transthyretin found in patients with schizophrenia is of special interest to the researchers. Transthyretin is a thyroid hormone–binding protein that transports thyroxine from the bloodstream to the brain. They suggest that the reduced level of transthyretin in CSF results in a lower thyroxine transport in brains of patients with schizophrenia. They further point out that thyroid dysfunction is relatively common in patients with schizophrenia and other psychiatric disorders, and hypothesize that thyroid dysfunction may somehow be genetically linked to schizophrenia and other psychiatric disorders.
The authors continue their discussion about the role of transthyretin, thyroxine, and schizophrenia saying:

In addition, in patients with severe forms of both hypo- and hyper-thyroidism, psychotic symptoms may occur, and the clinical picture frequently resembles that of schizophrenia, which may imply that an increase in central nervous system thyroxine function may be linked. Interestingly, long-term administration of clozapine has been shown to induce transthyretin expression in rat hippocampus and cerebral cortex, implying that clozapine enhances central nervous system thyroxine function, supporting the clinical relevance of transthyretin in the early pathophysiology of schizophrenia. Transthyretin has also been found to be differentially expressed in CSF of several other neurological and psychiatric diseases.

Source: OPEN-ACCESS JOURNAL PLoS MEDICINE
Disease biomarkers in cerebrospinal fluid of patients with first-onset psychosis. PLoS Med 3(11): e428.
Citation: Huang JTJ, Leweke M, Oxley D, Wang L, Harris N, et al. (2006)
Related Reading: Potential Biomarkers of First-onset Schizophrenia Found in Cerebrospinal Fluid (Schizophrenia Research Forum)
Additional Reading:
Biomarker Discovered for Schizophrenia - May Help in Diagnosis
Blood Test for Schizophrenia - Update
Protein markers in schizophrenia
Work Progresses on Biological Tests for Schizophrenia
Posted by Jeanie Wolfson at November 10, 2006 11:41 AM
More Information on
Schizophrenia Diagnosis