Uncovering an Epidemic - Screening for Mental Illness in Teens
The New England Journal of Medicine has a good article on the importance of mental health screening at a young age. This is an important issue because -- like most serious illnesses -- the sooner that a mental illness gets treated, the better the outcome. Many adults do cancer screening of some sort - but the need for early identification and treatment children for mental illness is much higher, yet gets much less attention. The NEJM article mentions:
"We know from the National Comorbidity Survey that half of all serious adult psychiatric illnesses — including major depression, anxiety disorders, and substance abuse — start by 14 years of age, and three fourths of them are present by 25 years of age (see table below). Yet the majority of mental illness in young people goes unrecognized and untreated, leaving them vulnerable to emotional, social, and academic impairments during a critical phase of their lives. Even those who receive treatment tend to do so only after a long delay: 6 to 8 years for patients with mood disorders and 9 to 23 years for those with anxiety disorders."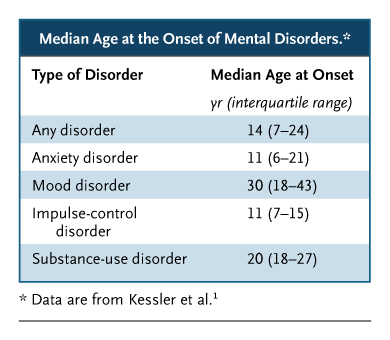 In 2005, the program screened 55,000 young people in 42 states. "About one third of kids screened positive on the questionnaire, and one half of those — about 17% — were referred for further evaluation after the clinical interview," said Laurie Flynn, executive director of Columbia University TeenScreen.
Early results have been positive.
"In one follow-up survey of parents of children who were identified through TeenScreen as having clinically significant psychiatric symptoms, including suicidal tendencies, 72% reported that their child was doing very well or had significantly improved and was seeing a mental health professional."
Read the full story: Uncovering an Epidemic — Screening for Mental Illness in Teens
(Source: New England Journal of Medicine)
Related Reading:
New Moms at Increased Risk for Mental Illness, Should be Screened After Childbirth
TeenScreen - Some States Order Psychological Tests In Schools
US Military starts on-line Mental Health Screening
Posted by szadmin at December 31, 2006 05:01 PM
More Information on
Schizophrenia Diagnosis