Schizophrenia and Creativity: New York Features Artwork
The city of Rome, New York issued a press release announcing the exhibition of 80 pieces of brilliantly done artwork by a brother and sister duo. The exhibition is titled "Sibling Rivalry". The brother, who was diagnosed with schizophrenia in 2001, expresses his life and stuggles through his art, and pieces are inspired by his internal thoughts and feelings.

---
"Sibling Rivalry" exhibit at Rome Art and Community Center
The works of artists Karry Fuller Comfort and Timothy Foley will be on display in Rome Art And Community Center's Galleries I & II in an exhibition entitled "Sibling Rivalry", March 2—30, 2007. The exhibit will open with an artist reception held at the Center on Friday, March 2 from 6:00 to 8:00 pm. The reception is free of charge and open to the public. Light refreshments will be served, as well as wine by donation. Both artists will be on-site during the reception to discuss their works, greet the public and answer questions. Many works will be available for purchase throughout the exhibition.
Artists Karry Fuller Comfort and Timothy Foley are siblings, thus the title of this exhibit. Artist Karry Fuller Comfort creates narratives that often incorporate the figure. These take shape with her bold use of color, intricate layout and design. "Ideas that come to me need to be expressed through my work, it fulfills me. I paint with a vision of what I want to portray, this vision lingering in my mind until the painting is fully executed. I feel a great sense of worth with completing a piece, being that I am literally able to express my thoughts in my work. I am never without an idea to convey, time seems to be my only foe."
Artist Timothy Foley adds, "After being diagnosed in 2001 with schizophrenia, it was easy to see where my bizarre artistic tendencies lied. I combine surrealistic patterns of thought, feelings and belief, along with an impressionistic view to construct my works. By mainly using internal strife and love lost, I work my means to create. Using color I compose my works to appease my current state of mind. I aim to reach beyond the obvious and instead delve into the subconscious minds potential. To simply try is all that I can offer and give."
The exhibit featuring a combined 80 pieces from these artists is a part of Rome Art And Community Center's 2007 Visual Arts Program, made possible with public funds from the New York State Council on the Arts.
An Exhibit Preview will be held Thursday, March 1, 2007 from 5:30 to 7:30 pm during the Rome Chamber Of Commerce sponsored Business After Hours party held at RACC. Admission to the Business After Hours will be $5 for Rome Chamber Members or $10 for the general public. Sushi, Tapas, Wine and more will be served. Both artists will be on-site during the Business After Hours as well to meet the public and answer questions about their work.
Rome Art And Community Center is located at 308 West Bloomfield Street in Rome. RACC is a nonprofit multi-arts facility committed to fostering creativity, cultural awareness, and a strong community connection.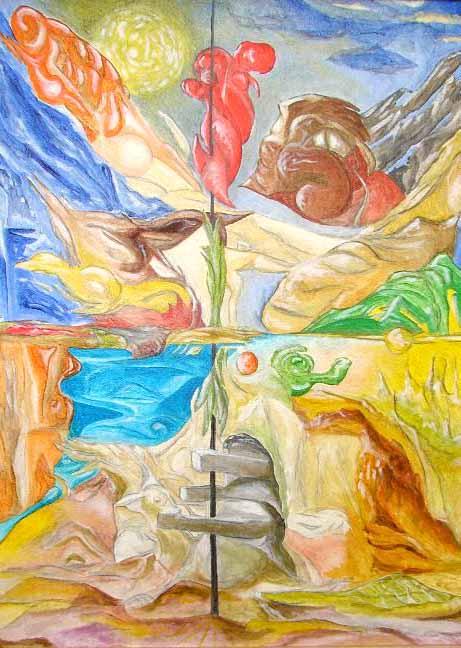 Related Link: NARSAD Artworks - which showcases "museum-quality art by talented artists whose lives share or have shared the common bond of mental illness. NARSAD Artworks is a volunteer 501 (c) 3 nonprofit corporation. All proceeds flow to causes supporting the mentally ill, especially scientific research".
Related Reading: Creativity linked to Schizotypy
People with Schizophrenia Exhibit Artwork
Art by People living with Psychosis (podcast)
Art Against Stigma
Artistic Ability and Schizophrenia

Posted by Jeanie Wolfson at March 7, 2007 11:25 AM
More Information on
Schizophrenia Personal Story